Here's everything you need to know about San Marzano tomatoes, their history, and why they're so widely used by professional chefs around the world.
what's the deal with san marzano tomatoes?
Ok, so let's make this really simple. The crust of the pizza is it's spine, the cheese is it's brain and the tomatoes are it's blood. If you're new to making pizzas, you'll likely head to your local shop and buy any tin of tomatoes or passata for your sauce, but as your interest begins to peak, you'll soon find yourself scouring through the internet to see exactly how the Italians do it. You'll start to notice a trend. San Marzano will be mentioned everywhere….no really, we mean everywhere! Ask any pizza chef and they'll tell you that San Marzano tomatoes are a must. But why is that?
Weep reading to find out more, otherwise this whole thing will have been a waste of time :)
the history of san marzano tomatoes
Throughout the years these lovely tomatoes have gained quite a reputation. Legend has it that back in 1770 the King of Naples was sent the very first San Marzano seeds as a present from the Royals of Peru. As time progressed it soon became apparent that this story is likely to be untrue. Another myth, is that San Marzano tomatoes were poisonous. We're not sure where that came from, but it may have been due to the volcanic soil and the assumption that the plants were relate to deadly nightshade.
Fast forward to now, and the reputation of these incredible tomatoes is as strong as ever. So much so that they are now protected. This means that only those marked with the DOP (Protected Designation of Origin) stamp can be called San Marzano tomatoes. There are plenty of fakes out there with the same name, but only those with the certification have truly been grown in the rich grounds of San Marzano.
How to use San Marzano tomatoes
These are probably the easiest tomatoes to use. If you've purchased a tin, you can simply open it up, pour into a large bowl or pan and get your hands dirty. Give them a good squeeze (maybe wear an apron and avoid white walls!) or use a hand blitzer. You're looking for a nice consistent texture. Just enough to remove any larger pieces, but not too much that you end up with a thin liquid.
If you're making pizza, then you can use it straight away by placing onto your dough, or you can add a few basil leaves, a pinch of salt if you wish. Some people like to cook their sauce through beforehand but it's down to personal preference.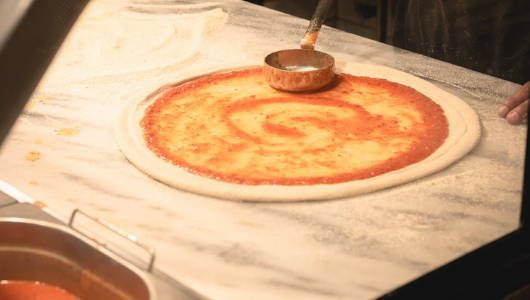 so Are San Marzano tomatoes really worth it?
Yes. We won't beat around the bush. Of course you can still make Neapolitan pizza without them and you'll still have amazing pizza, but if you want to use the best of the best then you need San Marzano tomatoes.
We only offer D.O.P San Marzano tomatoes from a variety of growers. All our San Marzano tomatoes come from San Marzano tomatoes. We'll never offer anything but the real thing. Whether you're looking for smaller tins to use every now and again, or something a little larger was have 400g tins up to 2.55kg. From the best known growers in the business including Rega, Strianese, La Fiammante, Solania, La Valle & Mutti.
Here's our San marzano tomatoes